June 8th, 2022

MC Canada invites congregations to register for virtual We Declare for discounted rate
Congregations encouraged to tune in to livestreamed worship and plenary sessions July 29 to Aug. 1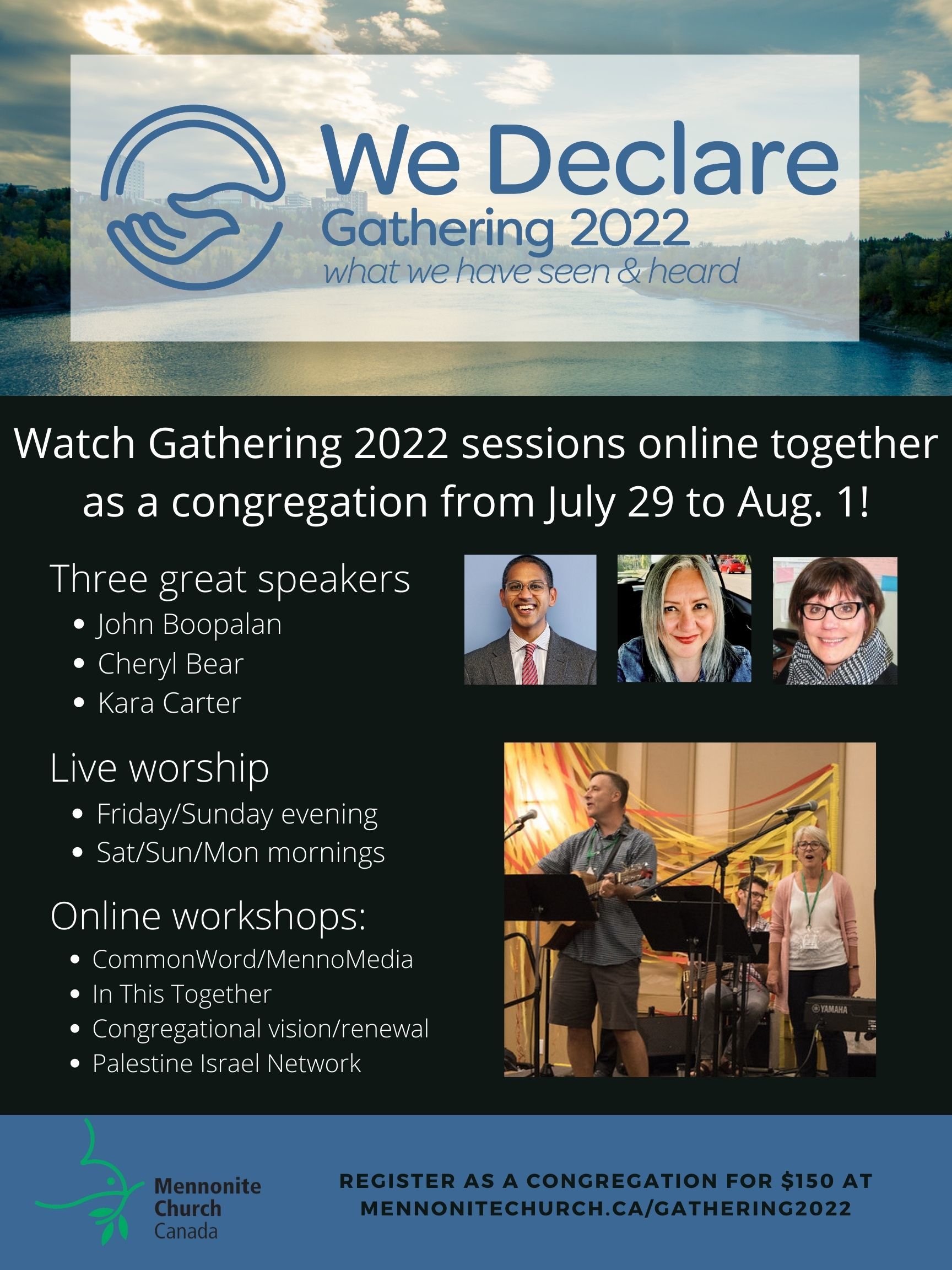 Mennonite Church Canada is offering all of its member congregations a discounted registration fee of $150 to view Gathering 2022 sessions on August long weekend. Individual registration fees have also been reduced to $75.
"This is the first time that we're making our nationwide gatherings a hybrid event and so we really want as many people as can make the time to participate from their congregational communities, says Doug Klassen," executive minister of Mennonite Church Canada.
Due to low registration numbers for virtual We Declare: what we have seen and heard, the lowered registration fees and direct invitation to member congregations is an effort to boost virtual viewership.
"The online option for August long is also a great way for pastors to take a break," stresses Klassen.
The invite is also a reminder that virtual We Declare isn't just joining a Zoom meeting – it's an interactive experience that requires some planning ahead.
Registrants log on to Pheedloop—a virtual event software platform—to view worship and plenary sessions, to participate in online workshops and to network with other registrants. Sessions are livestreamed from Edmonton (MDT). Recordings of the main sessions will also be available on Pheedloop throughout the weekend.
Main sessions
Friday evening, 7 to 9 p.m. (MDT) – Worship and plenary by guest speaker John Boopalan, assistant professor of biblical and theological studies, CMU
Saturday morning, 9 to 10 a.m. (MDT) – Worship and plenary by guest speaker Cheryl Bear, Nadleh Whut'en First Nation
Sunday morning, 10 a.m. to noon (MDT) – Nationwide worship service with sermon given by Doug Klassen, executive minister of Mennonite Church Canada
Sunday evening, 7 to 9 p.m. (MDT) – Worship time hosted by In This Together, LGBTQ+ and allied siblings in faith
Monday morning, 10:30 to noon (MDT) – Worship and plenary by guest speaker Kara Carter, pastor of Wellesley Mennonite Church
Online workshops**
Saturday morning, 10:30 to 11:45 a.m. (MDT)
New resources and congregational resourcing tips from CommonWord and MennoMedia – facilitated by Arlyn Friesen-Epp and Amy Gingerich
"Let anyone with ears to hear listen!" - In This Together – led by Steph Chandler Burns (they/them) who will explore perspectives on the Good News from the LGBTQ+ community
Saturday afternoon, 3:30 to 4:45 p.m. (MDT)
Congregational vision and renewal – facilitated by MCM director of mission engagement Melanie Neufeld
Six years after the resolution on Palestine and Israel: stories, experiences and insights – by members of the MC Canada Palestine-Israel Network who will share updates about their advocacy and the current situation in the Holy Land
**Individual registration is recommended for online workshop participation. However, a group of gathered church members could also participate in online workshops. It is recommended they assign one person to share their feedback during discussions.
To register your congregation for virtual We Declare, visit www.mennonitechurch.ca/gathering2022.
Questions? E-mail communications coordinator Katie Doke Sawatzky.
-30-